A Conversation with Samantha Peralta: Impacting Generations Through Community Outreach & Mexican American Pride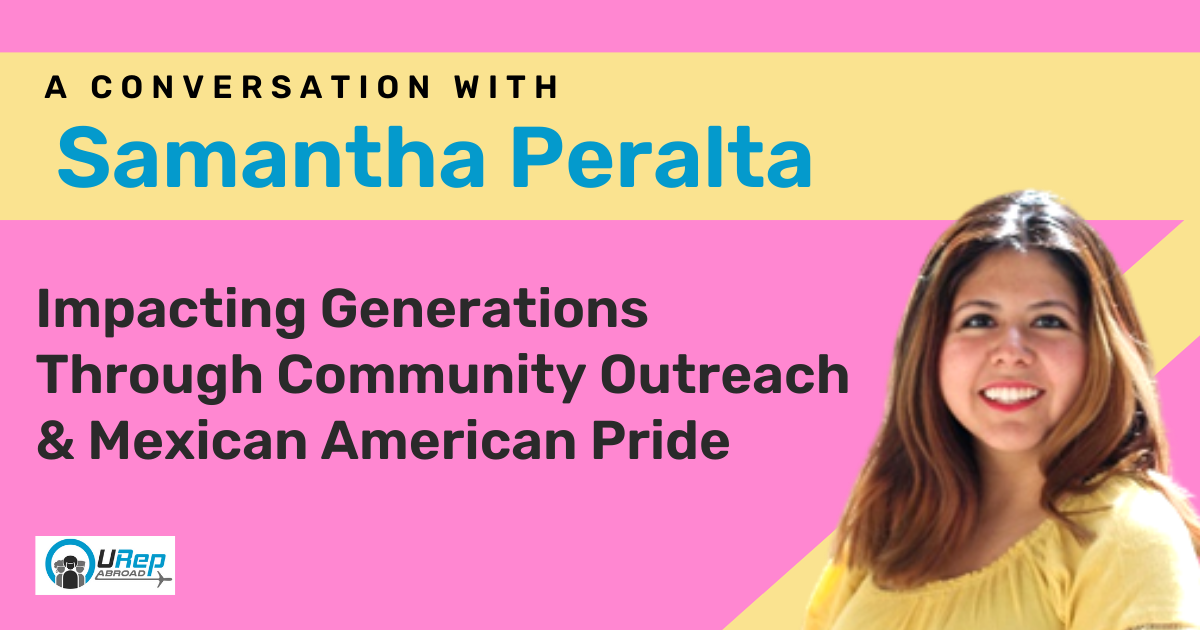 Samantha Peralta (she/her), a proud Mexican-American, shares with URep Abroad her various travel experiences and how being outside of her comfort zone while abroad sparked her determination to work in the international education field.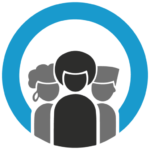 How does or has your identity influence your professional life?
As a Mexican-American who speaks Spanish fluently, my identity has influenced my professional life in many positive aspects. Community is significant within the Latinx culture. Representing as a Latina and being of Mexican heritage makes me proud to give back to my community and advance opportunities. I've leveraged my language skills to help organizations create programs that make a lasting difference.
Here in the U.S., my Spanish-speaking skills have helped others translate essential communications and file necessary government paperwork, such as green card applications and tax filings. When abroad, I represented my identity by hosted Spanish-Speaking conversation events for those interested or learning Spanish. I can use my skills to impact my community, right now, in the near future, and for generations to come.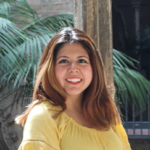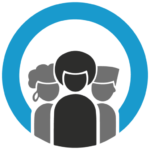 What advice do you have for new or aspiring international education professionals?
The most significant thing you can do is expand your network and connect with as many people as you can, whether at conferences (online or in-person), via LinkedIn or at any event! I know it can feel overwhelming to "put yourself out there," but you will also find opportunity, collegiality, and mentorship through making connections. By associating or knowing a group of people or an organization will help when applying for jobs.
For example, it helps to follow up with H.R., even when rejected from a position. Your professionalism, positive attitude, and continued, genuine interest make an impression. I'll share a personal example; After a job offer was rescinded due to COVID and then getting numerous rejections for different positions at the SAME organization, I would always follow up with a Human Resources (HR) person. I knew I wanted to work there! Fast forward a couple of months, I was asked by HR if I was interested in interviewing for a new position. It worked out, and the organization made an offer! Unfortunately, the COVID-19 pandemic has led many of us to second guess ourselves as we navigate instability. But, you never know when and what some of your actions can lead to new opportunities.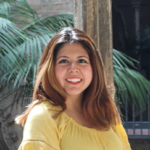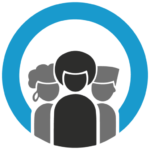 Looking back on your interest in working in International Education, what was the impact of your first educational-related job or exchange experience?
For me, the first impact was my educational-related exchange experience when I interned and studied abroad in Budapest, Hungary, during the second semester of my freshman year. Through my internship placement in the program, I learned how the exchange of cultures and education could open your world to new possibilities that I never imagined. I enjoyed meeting Hungarians and having them share their culture and language with me and vice versa.
After going through that experience, I wanted every student to experience the same and embark on their study abroad journey. After returning from Hungary, I became an advocate for experiential learning and study abroad when I returned to campus. As a result, I got involved with the education abroad office. From there, an Advisor I worked with suggested I apply for a NAFSA internship. I got accepted and completed back-to-back NAFSA internships in the ISSS/IEM/EA Departments and with Public Policy. Interning at NAFSA was my formal introduction to the work of international educators - what is involved, learning resources, building relationships, and advocating for change. I knew this was the field I wanted to work in.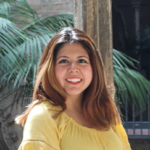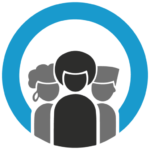 Was there a career/personal setback you faced which you later realized was an advantage to becoming the professional you are today?
After returning from teaching English in South Korea, it was 6 months of applying for jobs and constantly being rejected. When I finally got an offer, it was rescinded due to COVID-19. I felt I had worked so hard for this job offer and made plans to relocate. I felt like it was my chance to get my foot in the door. At the time, I felt like a failure. I was devastated that my aspirations of working in the industry and relocating to D.C. would not happen. I am thankful to my family, friends, and support network to help me through.
Now looking back, I feel relieved that things didn't work out how I originally planned. Because of that rescinded job offer, I got the chance to work for Congress as a Caseworker and help the citizens of the 12th district of New Jersey. I enjoyed learning about social, cultural, and economic issues that affect our society and the solutions that can be applied to combat these problems. Also, I enrolled in Korean language classes virtually and improved my speaking skills. More so, I doubt I would have ever been able to be in the position that I am today if the original job offer had gone through. I know that I am not alone and that many people, especially in international education, at all levels, are experiencing hardships. The COVID-19 pandemic has negatively impacted the field of international education. So, for those going through tough times, know that you aren't alone.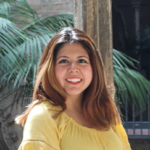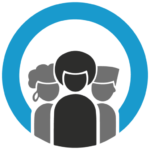 Where do you see international education as an industry growing in the future?
I see the international education industry growing substantially in the future. I believe now more than ever people are interested in going abroad and exploring new places. Whether it's to intern, study, volunteer, or work, the pandemic has instilled this sense of wanting to encounter new experiences firsthand. This has also made people who previously had no desire to explore options abroad really consider learning a new language, experiencing a new environment, and shifting out of their comfort zone, whether it be for a week or a few months to a year.
In addition, the world is converting to an interconnected, digital format where you do not have to be restricted to one region to learn or work. Now, with an internet connection, you connect from almost anywhere globally, and I believe that will only help the field grow as this can help reach new audiences. Since my study abroad experiences were so rewarding, I continue to advocate and promote international education. Diplomacy and cultural awareness will grow by fostering this cultural exchange between students, professionals, governments, and countries.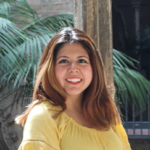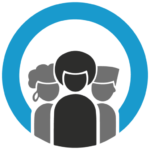 Tell us about a place you visited or traveled to that left an impression.
A place that I visited which left a massive impact on me was my year working and living in Seoul. I have never been in a place that felt so lively, so full of energy. I always felt that I could never be bored in Seoul. There would always be something to do at any given moment. Although I was seen as a foreigner, I felt safer walking home at night than I ever did in the U.S. The fact I could leave all of my personal belongings out in the open at a cafe, go to the bathroom, and not have to worry about it being stolen truly amazed me.
However, within my ESL work environment, I felt like a work-life balance was non-existent. It was expected for us to work late hours and dedicate all of our free time to work. Outside of the challenging work schedule, doing simple tasks like checking my bank account and going to the doctors was daunting as it was all in Korean, and my little knowledge of the language was barely enough to get by.
That year in Seoul helped me understand the real struggles of living abroad, different from what I experienced as a student in my other study abroad journeys. Despite the hardships, I miss and think back to all the wonderful people I met and the memories I made. I hope that soon, I can go back and once again experience the vibrant life of Seoul.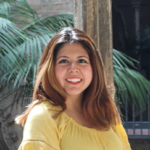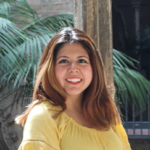 When not traveling and trying new cuisines, you will find Samantha helping students explore their #collegetocareer goals while on a program with The Washington Center. Samantha is a George Mason University alum and has taught ESL in Seoul, studied and interned in Budapest, and studied in Berlin.
Connect with Samantha on LinkedIn, and be sure to mention this article in your connection request.